Miracle man's survival instinct: how Laszlo has outlasted any Romanov era boss
Brian Marjoribanks

The first time Hearts fans heard of Csaba Laszlo, he was being kicked up the backside by their then manager John Robertson.
Few would have reckoned at the time that they would hear his name again or, indeed, that he could yet earn his place in club folklore alongside his assailant that night.
Laszlo's talent for achieving the impossible earned him the moniker of 'The Miracle Man' during his tenure with the Ugandan national team. From that barren outcrop of world football he has carried his good fortune with him to Tynecastle.
Often outspoken, even if we don't always understand what he means, the man from Transylvania has become the longest-surviving manager under the blood-letting reign of Hearts owner Vladimir Romanov.
The 45-year-old has now been in the job 225 days - 10 more than nearest rival Valdas Ivanauskas - and hopes are high that he will become the first manager under Romanov to complete a full season in the dugout.
Despite a backdrop of inheriting a team which had sold its best players, then losing captain Christophe Berra to Wolves in January, last weekend's win over Aberdeen has the Tynecastle side on course to qualify for the inaugural Europa League - the replacement for the UEFA Cup next season.
Should the former Ferencvaros coach lead Hearts to third place - without the benefit of a striker worthy of the maroon jersey - he would be a decent shout for SPL manager of the year.
George Foulkes - who resigned as Hearts chairman in 2005 in protest at Romanov's sacking of George Burley and chief executive Phil Anderton - is in total agreement and told Sportsmail: 'If we do finish third, then Csaba Laszlo should absolutely be named Manager of the Year.
'The Old Firm tread a familiar path each year and nobody would disagree that this hasn't been a great season for either of them. But with the resources at Csaba's disposal, the very least he deserves is some kind of medal if he finishes a whole season in charge under Mr Romanov.'
Incredibly, in the four years since the Lithuanian-based businessman took over the club, he has presided over a quarter of all 27 Hearts managers since 1901. And that's just those whose appointments were made official.
The Hearts website credits seven men as being in charge of Hearts during that time - Robertson, Burley, Graham Rix, Ivanauskas, Anatoly Korobochka, Stephen Frail and now Laszlo.
But the fact is an incredible 12 management teams have been in or around the Tynecastle dugout since the sale of former owner Chris Robinson's shares were completed in February 2005, including John McGlynn, Eduard Malofeev, Egenijus Riabovas and Angel Chervenkov.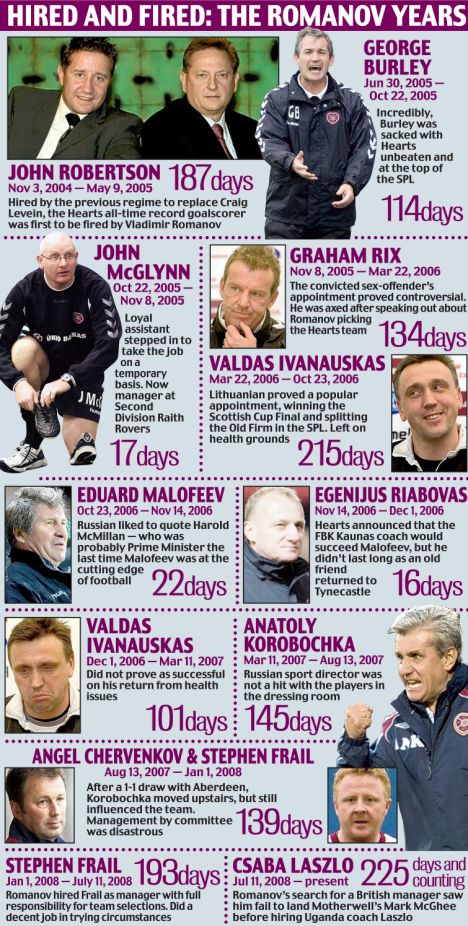 And even the more successful candidates have not been immune to receiving the axe. Current Scotland coach Burley, of course, was famously sacked after just 10 games with Hearts unbeaten and sitting proudly on top of the SPL.

The popular Lithuanian coach Ivanauskas, meanwhile, steered the club to a Scottish Cup Final win in 2006 and to a second-place finish in the SPL, clinching Champions League qualification for the first time. In the end, though, he met the same fate as the rest.

Laszlo is the first, it seems, to be afforded the luxury of time and the opportunity to turn plans into action. And it is Hearts who are benefiting as fans who remember that altercation with Robertson during a feisty UEFA Cup tie with Ferencvaros in 2004 warm to his passionate nature and will to win.

Certainly, history shows that Laszlo is not one for the ordinary. Born a Székely - a Hungarian-speaking ethnic group - in Romania under the regime of dictator Nicolae Ceausescu, he began a career as a midfielder of minor distinction in the country's Second Division.

But at 21, he fled to Germany on a tourist's visa to visit his uncle and never returned - a decision which saw him banned by the Romanian FA for two years. There he muddled through the lower and minor leagues but the desire to succeed always coursed through his veins.

The chance to coach at youth level at Borussia Moenchengladbach turned his career in a new direction, ultimately rewarded when the legendary Lothar Matthaus plucked him from obscurity to assist him with the Hungarian national team.

When he then landed the plum role at Ferencvaros, and was subsequently named Coach of the Year, success seemed assured until financial problems hastened his departure and he ended up in Uganda.
driver

Laszlo fan: star man Andrew Driver (left) has been singing the praises of his manager

A football backwater perhaps but for Laszlo it was simply another opportunity to swim against the tide. He led the country up a staggering 76 places in the FIFA rankings and took them to within one goal of breaking a 30-year exile from the African Cup of Nations.

A miracle worker, indeed, and one now turning on his magic at Tynecastle. Hearts players line up to sing his praises - star man Andrew Driver being the latest.

It's a scenario far removed from the dark days of strife when 'The Riccarton Three' of Craig Gordon, Steven Pressley and Paul Hartley spoke out about 'serious unrest' at the club.

Even the notoriously fraught relationship between the club and the media has been assuaged. Laszlo has proved a breath of fresh air, the biggest problem now being how to stop him talking - entertaining though he undoubtedly is.

Yet, questions still remain. Has the apparently bullet-proof Laszlo won over his demanding owner? Or is his longevity more indicative of the banking tycoon's loss of interest in his pet project?

'I hope this isn't wishful thinking, but it looks like Mr Romanov is finally letting a manager get on with the job,' said Foulkes. 'I met Csaba at a Burns supper recently and I was very impressed with him - and so are the Hearts fans. He has won everyone over.

'It seems he has the authority and the respect of his players. And you can see he knows what he's doing from his substitutions - which at times under Romanov were just plain crazy. Also, the players he has shown faith in - like David Obua - are starting to pay him back with good displays.

'For a while there, Hearts fans took it as their right to get into Europe every season. It has not happened for the last couple of years, but it looks like under Csaba we are back on the right path. I hope he gets the time to continue his project and restrengthen in the summer.'

http://www.dailymail.co.uk/sport/football/index.html