The day we beat Hibs Four Four!
By Mike Hamilton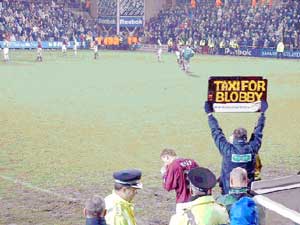 In truth being a supporter of Heart of Midlothian does not provide an abundance of favourite football moments to choose from. Of course there was the 97/98 season in which we ran the old firm close in the league and picked up our first major honour in forty years in the form of the Scottish cup. However, the moment in my mind that is remembered with most clarity is when Graham Weir equalised against Hibs in the dying seconds of the first derby of 2003. How could anyone on the maroon side of the Edinburgh divide forget the chants of "we only won four all" as the Hearts support made its way down Gorgie Road.
It is this for me that makes football magic; the record books will show that this game ended with honours shared, however a look around Tynecastle as the final whistle sounded would leave no observer with this impression. The Hearts fans who had remained in the stadium to see out what looked to be a dramatic win for the visitors were now celebrating one of the most remarkable comebacks ever seen in the Scottish game. Meanwhile the crestfallen Hibs supporters were in no mood to be thankful for a share of the points that Weir's two goals in forty-two seconds afforded them.
That football can produce such drastically different emotions amongst two sets of spectators who witness the same events and leave with an equal share of the available rewards has to be one of the game's most endearing qualities. Within the football supporting fraternity rationality seems to be left at the turnstyles. This adage is particularly true when it comes to derby matches with the extra passion they naturally generate.
For a supporter of any club to see a match turned in their favour in the last minute will always provide overwhelming euphoria. For the opposite to happen a deep sense of despair ensues. On January 2nd 2003 supporters of both Edinburgh clubs experienced these contrasting emotions in the same game. Going from a two a piece deadlock in the eighty-ninth minute to a four two lead in injury time it was the Hibs fans enjoying the euphoria and Hearts fans suffering the despair. Through finding the net twice these emotions were completely reversed by Graham Weir and as a Hearts fan I will always remember the day we beat Hibs four four!

|
Home
|
Contact Us
|
Credits
| © 2005 www.londonhearts.com |