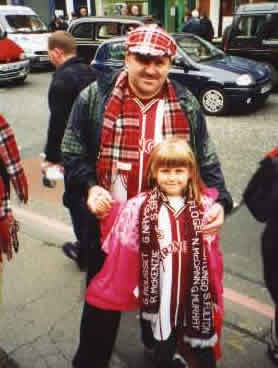 Alan & Kirsty on the way to the match
From Alan's Brother Graham


My family would like to thank you all for your wonderful tributes to Alan. It means so much to us, that so many people care and I know for a fact that Alan would be chuffed to bits - I know I am.

Alan enjoyed his time at London Hearts and was always telling me what was going on. It kept him in touch, and he could blether for hours and hours to fellow Jambos ( with a few beers of course! )

Although Alan was keen to bring his family home, it seems an injustice to say that at least we had him for 18 months. This season he had just bought his Daughter Kirsty her first season ticket.

Memories of my Brother - I have millions! The tears he had in his eyes, as we hugged after the final whistle on cup final day May 98- that takes some beating!!!

As Alan would say ' You're all Diamonds'.

Graham Thomson


---
From John Stevenson


Alan

I can't believe the news I've just heard today !

You were a good mate who always had smile and a warm welcome, even when I had not seen you for years. I enjoyed all the times in your company over many beers and whiskies. I last saw you after the Hearts play in the Kings, you had gone with your brother Graham, and I had taken my son Blair.

I am so sorry I didn't see you again.

My thoughts are with Graham and your father, your wee girl, and of course all your family.

I'm glad you saw us win the cup.

Cheers mate

John
---
From Dave Inglis & Mark Henessey


It was with great sadness that myself and Mark learned about Alan's passing away.We both knew him as a personal friend and as a work colleague,and remember with great fondness travelling to games with him,and the extremely pleasant and social Sunday return journeys back to London.

I know that he had been hankering to return home for a number of years,and when he retired from the Met with an Injury,he moved back with his family to Livingston. I met him last year when I was back in Bathgate, he was really content and happy.

At the very least he was back amongst his ain folk and watching the Hearts regularly.

We will both miss him.

Our deepest sympathies to his family.

Dave Inglis and Mark Henessey

---
From Ken Lightly


I last saw Alan and his little girl before Xmas in Gorgie Road just before the last Motherwell home game. He told us what he suspected was wrong, but was more or less his old self nonetheless. It doesn't quite seen right somehow.

I only saw Alan once in a while, but he always came across as one of the friendliest and most approachable blokes I've met.

Memories? Hugged him on the way up from Haymarket after THE Cup Final, happy times.

Some years ago now admittedly, despite hangovers, I remember him cracking first on the Sunday train back to London - he got in the first round!

Sorely miss you Alan, we all do. My thoughts go to your family.

Ken Lightly, Friend
---
From Dougie Harper

As a close personal friend of both Alan and Graham, words cannot express the disbelief and sadness that I feel. Alan was a one in a million type of guy and my heart goes out to his wife, daughter and all of his family. I had the privilege of being in Alan's company at every home game along with his brother Graham and their kids, and was shocked when the news of his illness was broken. Alan battled through the illness with the type of courage and bravery of which I have never seen. Although Graham and I will continue to attend the games it will never be the same again!

Gone, but never ever forgotten Alan.

Dougie Harper
---
From Alan Hughes


I was really sad to hear that Alan died. He really was a decent guy who I had a lot of time for, despite not paying his London Hearts fees on time during the mid 80's and Tony getting the two of us mixed up (name only of course he was twice the size of me). We used to arrive at the Waverley for the first train back on Sunday mornings with our Mums and Dads giving us a lift like a couple of wee laddies. Both of us would end up with enough rolls made by our respective old dears and Irn Bru to keep everyone on the train going never mind ourselves. We found out that we had met previously when we were both in Edinburgh when Alan was a bouncer at the Nightclub and I was a punk. He had some good stories about life in the Old Bill and as a bouncer and he was the sort of guy who restored your faith in the police.

When he took Kirsty up on her first football trip, she was too young to go but enjoyed the train journey, I saw another side to Alan. The big bear of a guy was a great dad who adored his wee daughter. I bumped into Alan a number of times at Tynecastle but I never suspected that there was anything wrong with him other than his knackered back. He was just a genuine, warm, likeable guy who will be missed by many of us.
---
From Scott Herbertson


I was very sorry to hear the news. Alan played at the back with me and Les for London Hearts in the APSCIL league and I well remember his little smile as he apologised and picked up an opposition forward after 'clobbering' into him. He had a great sense of humour and I remember a long and very funny conversation about his pre-police career which we had on the train up to a match.

A genuinely nice, genuine guy.
---
From Dave Young


My wife Ailsa and I have known Alan since they both worked for Avis car rental in the 70`s. I worked partime for Avis and got to know Alan very well. I was responsible for taking Alan away from Tynecastle as I convinced him that he would be better employed using his Saturday afternoon playing rugby. In fact it was during a rugby match that I came to punch Alan in the face. Actually I was aiming for someone on the other side but Alan got in the way. He just smiled his wane little smile and apologised to me!

Sometimes we can meet someone special and it makes a difference to us. Not everybody can make an indelible impression on your life. Alan for us was one of these people.

I joined the Fire Brigade in Northamptonshire at the same time as Alan joined the Met. It was too far for him to travel home every weekend so he used to stay with Ailsa and I at our house in Market Harborough bringing his dirty washing. Anybody who has been to a Police or Fire Service training centre will know how important it is to have your uniform in good nick. Ailsa used to be more particular with Alan's kit than with mine. Unfortunately we had two cats at the time and one Saturday night when Alan and I were having one of these conversations which a linguist would struggle to understand one of these cats climbed into the bag holding Alan's clean white shirts and emptied the contents of its bladder into it. Horrified and offering to kill the cats in a ritualistic and vile manner Alan just shrugged and smiled.

Having visited Alan over the last few weeks I saw another facet of Alan. I spent time with the bravest person I have ever met.

Before I finish I want to mention Graham. He is a son Andrew and Davina can be very proud of as they are of Alan. If the pain felt by Ailsa and I is sore it is nothing to that felt by his family. My life is richer for having known Alan.

Dave Young.
---
From Drew Goldie


Alan was the greatest Hearts fan I knew. He was also the nicest bloke you ever might wish to meet. He had a wonderful dry wit and a nice line in understatement, both of which were aimed in the general direction of Hibernian FC. He didn't seem properly dressed without a maroon-and-white scarf and I won't ever be able to stop myself looking towards the Nirvana as I walk down Ardmillan Terrace to the match, just in case Alan's sitting out front with Kirsty and his friends.

He regularly turned up to London Hearts meetings, the 8 o'clock Saturday train at Kings Cross and even appeared for our legendary 9-a-side fitba' team, even though the opposition invariably had eleven men plus subs. He enjoyed all of them with the same wry chuckle that made him so popular with everyone who knew him

I saw him last at Motherwell in April when Hearts had won 4-0 and the smile of satisfaction on his face that day will stay with me always.

I'll miss him.

Drew Goldie
---
From Martin George


I knew Alan for a number of years both as a friend & a collegue in the Met Police. Alan was the warmest person I have ever known & never had a bad word to say about anybody. I will always remember Alan for his enthusiasim for life & the people who he held most dearly. I still can't believe that he has gone, but I feel really privilaged to have had him as my closest friend, I will always miss him deeply.

Rest in peace my friend,

Martin George
---

From Colin Macilwain


I just want to add to the tributes to Alan that are on your excellent site.

I just want to say how shocked I am to find out about this. I remember Alan as a brilliant companion on all the early London Hearts train trips, and talking with him about the old days at the Nite Club where he had worked when I was a student at Edinburgh. I remember how he made fun out of the Met and how him and Mark and Davie made me respect the police more -- one of my best pals in Washington DC now is a cop, I wouldn't have expected that then.

I remember him being simply the best and one of the least sober after the home victory over Bayern Munich, in the Abbotsford, was it? and also providing some moral support when I was being crap for the legendary nine-a-side London Hearts team at Wormwood scrubs. We had only seven against Rangers one day and were playing into a gale, and I think I mind him making a great big clearance that came straight back into his face with the wind.

I'm happy to see that picture of Alan with his lovely daughter, if she takes after her dad the world will be a better place for her being in it.